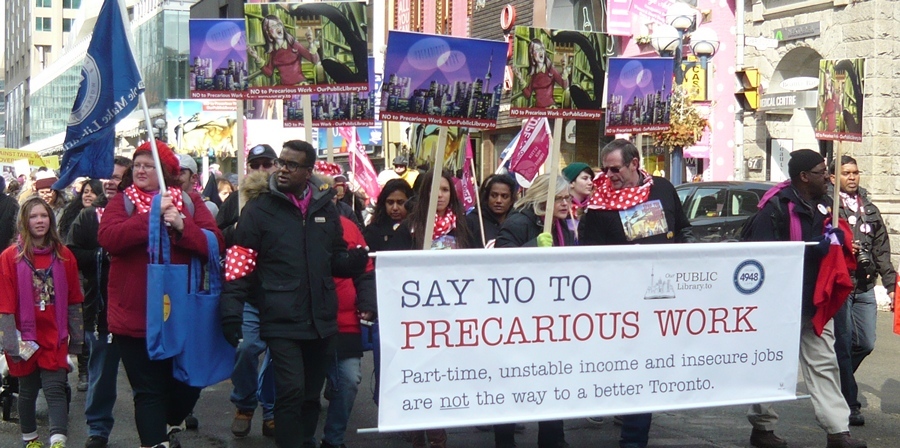 At openDemocracy, Alphan Telek develops the notion of the "political precariat," based on Guy Standing's idea of the precariat as a new class produced by neoliberal capitalism. As Telek writes, transforming the global precariat into a political force means crafting a political program that address the everyday insecurities of precarious life. Here's an excerpt:
Against this, I would like to defend the explanatory power of the precariat with regard to daily life and its potential transformative power in socio-political life. If we properly define daily life (the relations of production) in today's capitalism, we can help the least advantaged segments of society (workers, immigrants, poor employees, women and young people who think that they have no future under this system, but who simultaneously have problems with the narratives offered them by emerging authoritarian populist regimes) to gain their social power, making them a stronger player in this chaotic world.
Therefore, the concept 'precariat' provides key insights into daily life under today's capitalism. However, only if we can build on these a political programme for the precariat, can the concept fully realize its potentially transformative power in socio-political life. This is where the approach of left-transformation (as outlined by my colleague Seren Selvin Korkmaz and myself in a series of articles on openDemocracy) may provide some of these new terms, so that we may begin to think, for example about the need for 'transformers' both against plutocracy and populism. This new political program, crucially, will keep all the different identities, whether north-north or north-south, together in the same ranking, and recognizing their common struggle. This is precisely how the strategy of left-transformation can make the precariat a 'political' force for change.