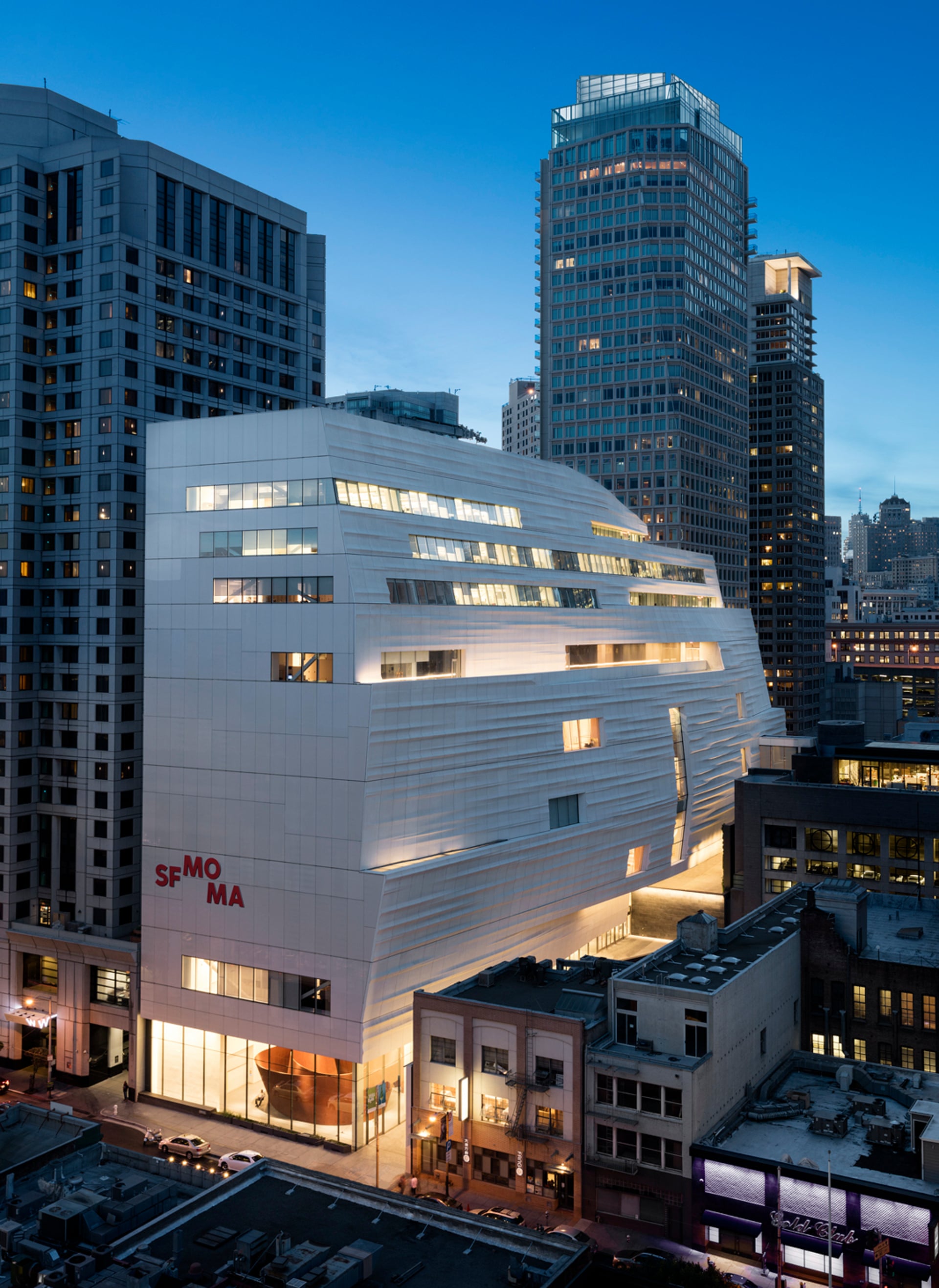 On May 14, the San Francisco Museum of Modern Art, after being closed for almost three years for a massive expansion and renovation, will reopen to the public. In The Guardian, Paul Laity tours the new museum, which, he writes, "is about to join the very highest rank of galleries of contemporary art in the world." This is thanks to long-term loans of major artworks from some of the Bay Area's richest collectors, most notably Donald and Doris Fisher, founders of The Gap. Tech entrepreneurs have also been integral to the museum's improved holdings, notes the museum's director, Neal Benezra. The unacknowledged subtext of all this is that SFMOMA's heightened status is closely tied to the massive influx of tech wealth that San Francisco has experienced in the three years that the museum has been closed. As the city has become unlivable for all but the most affluent residents, SFMOMA has benefited considerably, as Benezra implies when he extols the recent gentrification of the museum's surrounding neighborhood:
The campaign shines a fascinating light on how a major American art gallery such as SFMOMA operates; it is also the latest chapter in the story of how the museum has been transformed by the tech-led boom in the Bay Area. One aspect of this is the neighbourhood, SoMa, in which the museum stands: as recently as the early 90s it was, Benezra points out, "not a place where polite company would go looking for culture. Today it is one of the centres of the tech industry, dynamic and lively." Another aspect is the availability of great wealth. "Entrepreneurship is a big thing in San Francisco, and the visual arts are particularly amenable to it," investment mogul and chair of the SFMOMA board Charles Schwab said in 2000. "The art world moves … quickly … It reflects our changing society." According to Benezra, the city has, outside of New York, "the greatest body of private collectors of contemporary art" in the US.
On SFMOMA's board are real estate magnates, venture capitalists and the CEO of Yahoo, Marissa Mayer. The museum's trustees have dug deep into their pockets and it has benefactors that represent really big money – the families behind the Hyatt hotel empire, for instance, and Levi Strauss retail. And when the museum held a party to celebrate its 75th birthday, Mark Zuckerberg came along.
The Fishers are, of course, the most obvious embodiment of immense wealth combined with a loyalty to San Francisco and an intense desire to collect art. The LA Times has described their collection as "very 1980s … big, brash, expensive, even vaguely avaricious in tone. Call it Dynasty-style acquisition" focused on "big-ticket artists … born of the American art world's first, big, market-driven era".
Image of the expanded SFMOMA via The Guardian.