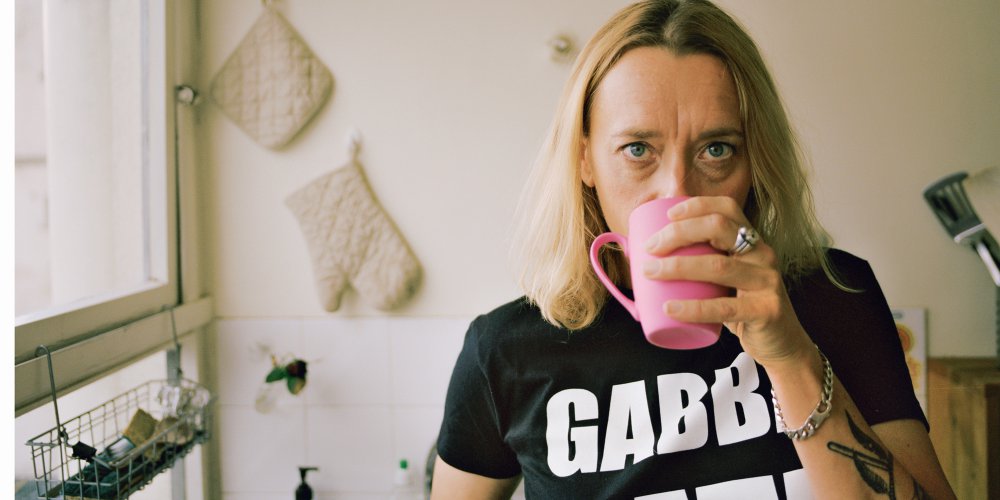 In the current issue of Bookforum, Lauren Oyler profiles French writer and filmmaker Virginie Despentes, whose art mixes radical theory with a pulp sensibility. Her most recent work, the novel trilogy Vernon Subutex, earned her widespread acclaim in France and is currently being translated into English. Check out an excerpt from Oyler's profile below.
In 2008, the Spanish theorist Paul B. Preciado wrote about Despentes, with whom he had a long-term partnership, in Testo Junkie, a frenetic work of autotheory. He described the voice of King Kong Theory, which Despentes was writing around the time they met, as "the aristocratic brain of a futurist she-wolf lodged in the body of a hooker, the intelligence of a Nobel Prize winner incarnated in a street dog." Later in Preciado's book, we see Despentes editing a film surrounded mostly by men—"one of them, at the same time as being above them all." This duality—the radical voice in the hot body, the matter-of-fact wisdom espoused by the punk—informs all of Despentes's work. While her characters are often queer and gender-bending, Despentes understands that stereotypical differences between men and women, born of patriarchal pressure but often exacerbated by bad personalities, aren't necessarily inaccurate, either; she's not afraid to drop a delightfully cutting generalization into the mind of an entitled, self-pitying male writer or bratty, attention-seeking girlfriend. Ultimately, as she writes in King Kong Theory, we're all straitjacketed by the same stuff. "Today's world is a long way from the Promised Land for all of us. Neither women nor men are happy here. And this has nothing to do with the respect of gender traditions. Women going back to the kitchen, putting on aprons and producing kids every time they fuck would have no impact at all on the failures of work, free enterprise, Christianity, or environmental sustainability."
Image of Virginie Despentes via marieclaire.fr.