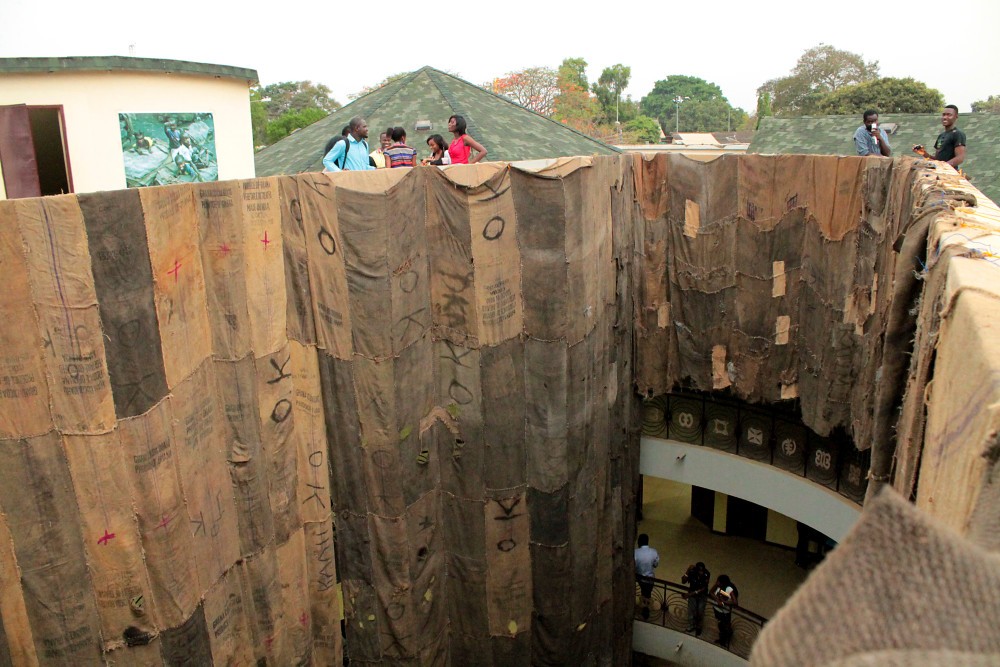 The good folks over at ArtNews have discovered a heretofore unknown court case, in which Stefan Simchowitz sues a young Ghanaian artist, Ibrahim Mahama, from June.
Apparently Simchowitz and Dublin art dealer Jonathan Ellis King gave Mahama nearly $150,000 in return for gigantic batches of fabric sewn from jute coal sacks. The dealers then stretched them onto bars to sell as paintings–294 of them, worth $16,700 each, for a total value of $4.45 million. Mahama has since deauthenticated the works, hence the lawsuit. No wonder Mahama doesn't want to keep his end of the deal–Simchowitz and Ellis King would make many, many times over what Mahama was given, and the artist's market would be flooded.
But, since Mahama didn't actually even make the final works, isn't there fair ground for the artist to deauthenticate them? If so, this is a glaring hole in Simchowitz's strategy, which is to find young, naive artists and purchase large swathes of their work (or materials from which he can produce their work on his own, such as computer files to be printed, or in this case, fabric to be stretched) and then raise its value by creating a market around them. While this strategy is unethical, riding on the compromising ambition and trust of young, competitive artists, it is almost certainly legal. But perhaps going as far as making others' work himself is too far in terms of authetication, even with a prior verbal agreement.
The ArtNews report is in partial below. You can read their full report, highly recommended, here, or read the original court filing here: Mahama file.pdf (130.1 KB)
Los Angeles dealer and artist agent Stefan Simchowitz and Dublin dealer Jonathan Ellis King have filed suit against the Ghanaian artist Ibrahim Mahama, alleging that he breached a contract between them by, among other things, declaring hundreds of signed works inauthentic, potentially costing the dealers $4.45 million in work they own by him. The suit, which was filed in federal court in June but which seems to have gone unnoticed until now, sheds light on how the controversial Simchowitz conducts business with artists, some of whom he has helped propel to fame.
Mahama, 28, is responsible for one of the largest artworks in the current Venice Biennale, a sprawling tapestry-like installation made up of jute sacks used to transport coal in Ghana, where he lives. The youngest artist in Okwui Enwezor's Biennale group exhibition "All the World's Futures," Mahama has recently been in two exhibitions at London's Saatchi Gallery surveying art from Africa and Latin America. In an article published in February of this year in Los Angeles magazine, just a few months before the Biennale opened, Simchowitz was quoted trumpeting Mahama as his latest discovery, comparing him to Oscar Murillo, whose work Simchowitz acquired in large quantities early in the artist's career and resold to clients. "Everybody keeps asking who will be the next Oscar Murillo," he told Los Angeles. "Now I know. I discovered him on the Internet. He's an African artist named Ibrahim Mahama. He will be massive and will congeal my eye. I've sold Ibrahim's work to ten of my best collectors without telling them what they will be getting. I called it the Simchowitz Trust-Me Special. He is going to be huge."
But things appear to have gone sour.
"I was really left with no choice," Simchowitz said by telephone from Australia last week, when asked why he filed suit.
In May of this year, the dealers allege, Mahama sent them an email saying that 294 pieces that he had signed—works made by stretching portions of the jute sacks the artist uses for his installations so that the they resemble paintings—are not his work.
The civil suit, which was filed in U.S. District Court for the Central District of California on June 15, demands that the artist authenticate the works and seeks actual and punitive damages for the loss in value of the works in question. It also levies a number of other allegations against the artist.
"It's quite incredible really. The whole thing is really shocking," Ellis King said by telephone from Dublin.
Mahama did not respond to several requests for comment sent to his e-mail address listing in a summons associated with the suit and to the gallery that is currently showing his work, A Palazzo, in Brescia, Italy. It is not clear if he has retained legal counsel.
The suit describes how Simchowitz became aware of Mahama's work at a time when the artist had not yet achieved international visibility. According to the complaint, in 2012, after Simchowitz discovered the artist's work through images posted online, he contacted Mahama via Facebook. At the time, the suit says, Mahama had only shown in his native Ghana, where he had displayed large tapestries of the jute sacks in public spaces.
Later, Simchowitz introduced him to Ellis King, and in October 2013, the two men say in the court filing, they made an oral agreement with Mahama to each give him £45,000—a total of about $148,500—in exchange for a large amount of jute-sack material, divided into six lots, with the intention that the money would be used to help him build a studio.
In the complaint, the dealers say they made an agreement with the artist that those six lots of jute would be divided into two groups, as follows: Two of the lots would remain intact and be used to make an installation for a show at Ellis King's gallery in Dublin. The other four would be divided up and used to make works in three sizes—108 by 54 inches, 96 by 48 inches, and 72 by 36 inches—mounted on stretchers and signed by the artist. According to the suit, Simchowitz and Ellis King paid for the shipping of the jute sacks to the U.K. last year and paid a fabricator $67,000 to stretch them into artworks. During that time, Mahama was on hand in London to "oversee and approve the stretching process." On December 3 and 4 of last year, they say, he signed 294 such works at Ellis King's gallery in Dublin.
The day after Mahama allegedly signed those works, his solo exhibition—the show of the large installation works—went on view at Ellis King's eponymous gallery in Dublin where it was on view through January 10, 2015.
The two dealers have sold 27 of the stretched pieces to galleries and collectors, at an average of $16,700 apiece, a figure they use in the suit to value the 267 remaining works, which are in storage in Dublin and California, at $4.45 million. (In the suit, Simchowitz says that he has an additional 15 unsigned stretched works, and that there had been an understanding between him and the artist that they would be signed and authenticated.)
*Image of Mahama installation courtesy publicdelivery.org