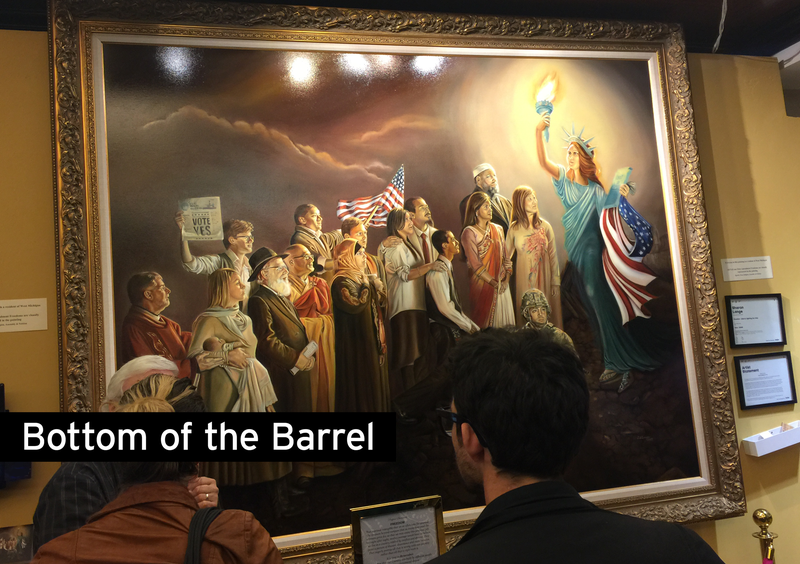 The ArtPrize competition in Grand Rapids is known as a strange beast: it's unusually well funded, handing out grants to artists totaling over 500,000 USD per year, but also bears little connection to the contemporary art world, or at least the taste purveyed by it. Peter Moskowitz of Gawker went on their press junket (replete with a private jet) and wrote an article titled, "Welcome to Artprize, a 'Radically Open' Far-Right Art Competition in Grand Rapids."
He writes:
I'd been flown to Grand Rapids by a PR company paid for by ArtPrize, which is funded by billionaire Rick DeVos, the 33-year-old heir to the Devos Family fortune. That fortune was mostly acquired through owning Amway—the company that makes nutritionally questionable substances like Nutrilite as well as beauty products that are sold through "distributors" to people who are usually unemployed or poor and are encouraged to buy as much product from Amway as they can afford (or not afford). They oftentimes lose more money than they make. Amway has been called a pyramid scheme for decades, but it has skirted being defined as one by the Federal Trade Commission because it has convinced regulators that its distributors know how its distribution system works, and that they may lose money in the process.
The DeVos family is also one of the biggest contributors to far-right politics, donating millions to Focus on the Family, the American Enterprise Institute, and similar organizations that bash unions, same-sex marriage, and other markers of progress that are pivotal to America's maturation. They even received a commendation from the Koch brothers for their work. It's not clear whether Rick harbors similar sentiments. A quick check of his Twitter suggests he does. He refuses to talk about politics to the press.
…Despite the millions of dollars awarded over the last seven years, ArtPrize has hardly made a splash beyond Michigan state lines. It's actually kind of a joke in much of the art world, where populism and a democratized aesthetic are often frowned upon. Sure, there's some coastal snobbery contained within that criticism, but that doesn't delegitimize the critique: ArtPrize, with few exceptions, has not produced artwork of note, has not launched careers or changed discourse. Its greatest achievement is that it has made a few lucky people who will never have success in the actual art world moderately rich and somewhat venerated for a few days each year.
In the lobby of the Amway Grand, the nicest hotel in all of Grand Rapids (where journalists invited to attend the yearly competition are put up), sat two pieces that were popular enough to keep the hallways of the hotel constantly packed with ArtPrize visitors. One piece was a 50-foot-long American flag with a depiction of an American soldier at one end. A woman stood by it holding Sharpies and visitors were encouraged to use those Sharpies to write the name of their heroes on the flag. "God" and "Dad" were the two most popular.
Across from that was a painting of a Miss America-looking Lady Liberty, welcoming about ten caricatures of different ethnicities into the United States. A soldier holding a machine gun stood guard in the corner of the painting, ensuring the protection of the newly arrived Americans.
There was, apparently, much more art like that, but the press was ushered by ArtPrize employees imported to Grand Rapids from London and New York and Los Angeles in cars sponsored by Honda to see the better art (the PR team was very reluctant to diss the Americana, or hold one artist's reputation over another, but there's a reason we were taken to only a few places and not given cars of our own, despite the lavish budget; at one point a PR representative did say "Rick personally has a legitimate art collection, not at all inspired by the KKK," a reference to the jingoistic pieces in his parents' hotel lobby). That included a piece by the established Brooklyn artist Kate Gilmore. She'd taken an abandoned house, painted it pink and gotten volunteers in white lace dresses to sit on swings and swing from the house's insides through its open windows. She won the $200,000 juried prize. It was a nice piece, I thought, but I know very little about art. Two other journalists who work for art publications told me it, and every piece in Grand Rapids, even the more professional ones, were inoffensive, bottom-of-the-barrel, and "not good."
Is ArtPrize a legitimate art competition, I asked one artist.
"No," he said.
Needless to say, Artprize wasn't very happy with the coverage, and even resorted to juvenile retorts, accusing Moskowitz of not being a "real" journalist.
Like many festivals and events, ArtPrize conducts an annual media tour for art, culture, technology, and lifestyle bloggers and journalists. We were particularly excited about welcoming Peter Moskowitz to Grand Rapids because he was covering the event for Al Jazeera and The Guardian. It was only when he arrived in Grand Rapids at the beginning of the media tour that he informed our PR team that he was instead writing for Gawker.
Naturally, his sudden change in media affiliation concerned us, especially given Gawker's specific style of written entertainment. However, we remained open-minded and open-hearted about his approach so we put our best foot forward and took him at his word, especially as he described to us what he intended to write about. Our concerns deepened when he skipped several scheduled opportunities to explore and learn about the event. He did seem interested in his hospitality arrangements, though.
We believed that the energy, spirit, and excitement of ArtPrize would win him over. How wrong we were. While we're blindsided and disappointed by this agenda-driven, painfully inaccurate, and woefully misinformed article, we also realize that this is an occupational hazard of running the world's largest art competition. So, life goes on.
To the thousands of dedicated venues, artists, and volunteers who pour their heart and soul into making this event a success each year, we apologize that your herculean efforts and belief in ArtPrize weren't recognized in this article.
For anyone interested in some thoughtful national coverage of ArtPrize Seven by real journalists, we encourage you to check out some of these articles:
ArtPrize Offers Delightful Surprises as Critics' Picks are Revealed via ArtNet News
ArtPrize, Michigan's Premier Art Festival, Is As "Terrifying and Thrilling" As Ever via Complex
Quality is up at ArtPrize Seven via Detroit Free Press
From Carcasses of Cloth to Race Riot Chess, Some Highlights of ArtPrize 2015 via Hyperallergic
Goings on at ArtPrize: Q&A with Judith Braun via Brooklyn Magazine