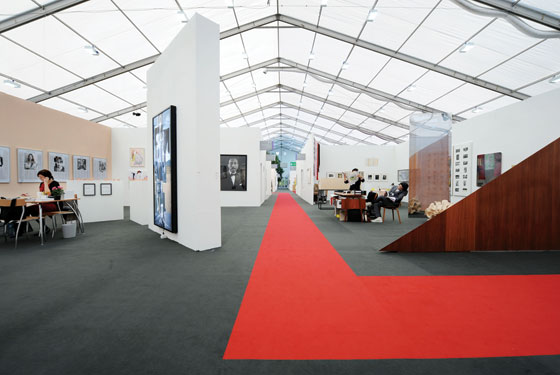 Now that the United Kingdom is officially on its way to exiting the European Union, collectors, artists and dealers are wondering what Frieze Art Fair will look like post-Brexit, especially amid the cooling art auction climate. Read Scott Reyburn for the New York Times in partial below, in full here.
But this year's event, centered on the 14th edition of the Frieze Art Fair in Regent's Park, also faces a unique concentration of challenges. The "Brexit" vote, the upcoming American elections and overall economic uncertainty have made collectors in every income bracket more cautious about buying and selling art.
"There's a general air of worry in the galleries," said the Belgian collector Alain Servais, who will be in London for Frieze Week. "There are too many artists, too many galleries, too many auctions, too many fairs."
But for collectors like Mr. Servais, the problem isn't just oversupply. Demand has also cooled at contemporary art auctions, creating a predicament for buyers of new art from galleries: The prices dealers are asking for works are often higher than their resale value at auction. This is bad news for those looking to make quick money out of art.
A case in point was Phillips's Sept. 20 "New Now" auction in New York, where many works by young artists targeted by speculators in the past three years sold below their original purchase prices.
A 2014 "Newz!" canvas by the Los Angeles painter Math Bass raised $25,000 with fees, netting the seller some $15,000— about $5,000 less than the original gallery price in 2014. Less than a year ago, another of Ms. Bass's enigmatic 2014 "Newz!" paintings of ideograms sold at a Phillips auction for $81,250.
"There's now a significant divergence between the auction price and the gallery price," said Clayton Press, an adviser in Princeton, N.J., who monitors the art market. He added that this divergence was the inverse of the previous three years, when works by young artists were selling at auction for multiples of their gallery prices.
With this divergence now in place, collectors browsing the booths of Frieze will also be keeping an eye on estimates and prices that week at Sotheby's, Christie's and Phillips.
The market's new dynamic doesn't just apply to emerging artists. At Frieze, Lisson Gallery of London will be asking 3.5 million pounds, or about $4.6 million, for the 12-foot-high lacquered stainless steel sculpture "Stave (Red)" by the British-Indian artist Anish Kapoor, dating from 2015. The current auction high for Mr. Kapoor is $3.9 million, in 2008, according to the Artnet database of salesroom prices.
The Frieze stalwart David Zwirner will be offering a new painting by the young Colombian artist Oscar Murillo, who is the subject of a show at the dealership's West 19th Street gallery in New York. Paintings in the exhibition are priced between $280,000 and $400,000.
Sotheby's Friday evening auction of contemporary art will include Mr. Murillo's large 2013 abstract "Night Shift," estimated at $197,000 to $263,000. So far this year, no work by the artist has sold at auction for more than $100,000, according to Artnet. Back in 2013, at the height of the frenzy for flipping abstracts by emerging artists, Mr. Murillo's auction prices reached $401,000.
"The auctions are an exchange that reacts to economic factors," said Anders Petterson, founder of the market analysts ArtTactic, based in London. "The galleries are tastemakers who support their artists. If they lower prices, it says something about a gallery's belief in an artist, so they stick with those levels."
Using presale estimates, Mr. Petterson calculated that the aggregate value of Sotheby's, Christie's and Phillips's Frieze Week evening auctions was some 37 percent down on October 2015.
Of course, the Frieze Week auctions will also contain works by sought-after artists that sell for far more than their gallery prices. Adrian Ghenie, for example, is one of a select group of artists with a long waiting list of would-be buyers, resulting in exponentially higher prices for the few works resold at auction. On Thursday evening, Christie's will offer the 2008 Ghenie painting "Nickelodeon," with an estimate of £1 million to £1.5 million. This 8-foot-wide scene of sinister figures in a wood-planked interior had been bought by its owner from the London gallery Haunch of Venison in 2009. Auction prices for Mr. Ghenie, who represented Romania in last year's Venice Biennale, have increased sharply since his van Gogh-inspired "The Sunflowers in 1937" sold for $4.5 million in February.