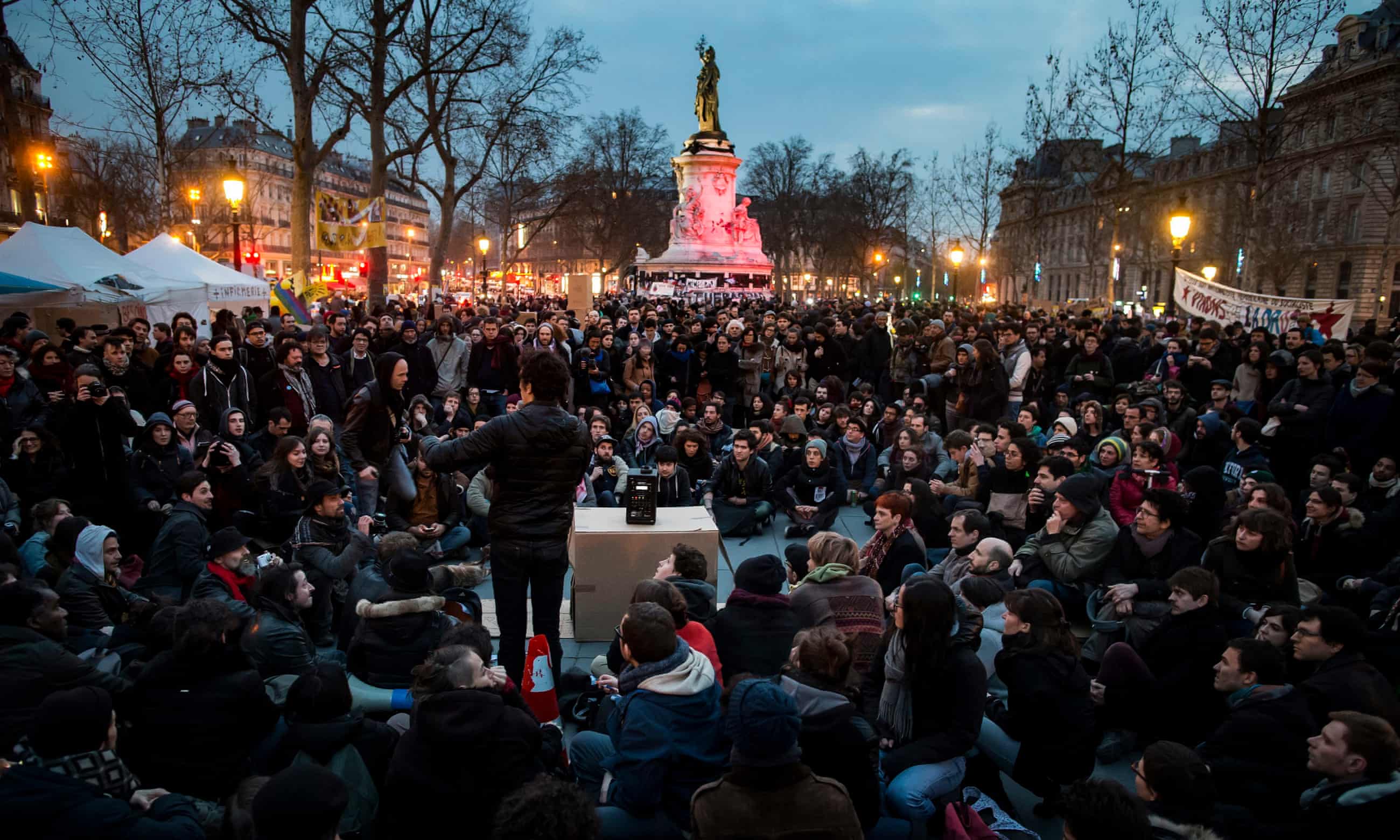 As the Guardian reports, France has seen a very Occupy-like movement emerge in the past two weeks, as people in cities across the country assemble nightly in public squares to talk, organize demonstrations, and sometimes camp overnight. The gatherings began in response to a harsh labor reform bill proposed by Francois Hollande's government, but they have expanded to encompass climate change, the entire French political establishment, and the dim future for French youth. Here's an excerpt from the article:
It began on 31 March with a night-time sit-in in Paris after the latest street demonstrations by students and unions critical of President François Hollande's proposed changes to labour laws. But the movement and its radical nocturnal action had been dreamed up months earlier at a Paris meeting of leftwing activists.
"There were about 300 or 400 of us at a public meeting in February and we were wondering how can we really scare the government?. We had an idea: at the next big street protest, we simply wouldn't go home," said Michel, 60, a former delivery driver.
"On 31 March, at the time of the labour law protests, that's what happened. There was torrential rain, but still everyone came back here to the square. Then at 9pm, the rain stopped and we stayed. We came back the next day and as we keep coming back every night, it has scared the government because it's impossible to define.
"There's something here that I've never seen before in France – all these people converge here each night of their own accord to talk and debate ideas – from housing to the universal wages, refugees, any topic they like. No one has told them to, no unions are pushing them on – they're coming of their own accord" …
"Generation revolution", was scrawled on the pavement. The concept behind the movement is a "convergence of struggles" with no one leader. There are no union banners or flags of specific groups decorating the protest in the square – a rarity in France.
Cécile, 22, a Paris law student at Thursday night's general assembly, said: "I don't agree with the state society is in today. To me, politics feels broken. This movement appeals in terms of citizen action. I come here after class and I intend to keep coming back. I hope it lasts."