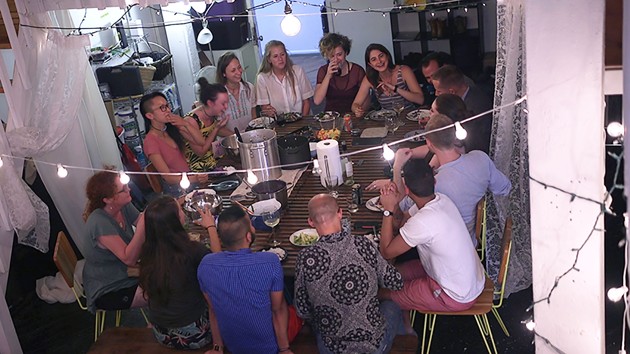 In the latest iteration of the misleadingly named "sharing economy," venture-capital-backed startups are buying entire buildings in hip New York neighborhoods and turning them into communal apartments for, in the words of one such company, "today's creative class." Writing for The Atlantic, James Hamblin calls this—without a hint of irony—the "communal living industry." Whereas communal living has historically been a means of living cheaply, the houses that Hamblin writes about are full of cosmopolitan entrepreneurs and the occasion artist who all pay as much as $1500 a month for a sense of "community." Hold your nose and read an excerpt from the article below:
Pure House is on the small side of the communal living industry, which is seeing commercial success in the United States at the moment. There are plans to spread across Brooklyn, but for now it consists of three closely situated apartments with five or six people living in each. This puts Pure House behind industry leaders like WeLive, which operates entire buildings in lower Manhattan and "D.C." (actually in a renovated office building in a sterile commercial park in Arlington, Virginia). Along with WeWork, the co-working space part of the company, WeLive is part of a $16 billion valuation.
Another communal-living company, Common, raised $7.35 million in mostly venture-capital funding last summer, and is taking over real estate in historically black Brooklyn neighborhoods of Bedford-Stuyvesant and Crown Heights. Another, Stage 3 Properties, which promises a "holistic housing solution," encourages tenants to socialize and bond in "play spaces" throughout New York, "an ever-expanding network of amenities spread throughout multiple Ollie properties."
This microcommunity is not free, though. A room at Pure House costs between $1,500 and $1,800 per month. WeLive is even more expensive, with the smallest room costing more than the Dupont Circle studio I rented when I lived in D.C. On the basis of square footage of the private space, WeLive and Pure House cost more than most rental spaces in New York, too. Several tenants could split a comparably minimal loft for around $1,000 per person. So people are paying a lot to live in major cities like New York, and then, once there, paying even more to create a smaller community.
Image via The Atlantic.