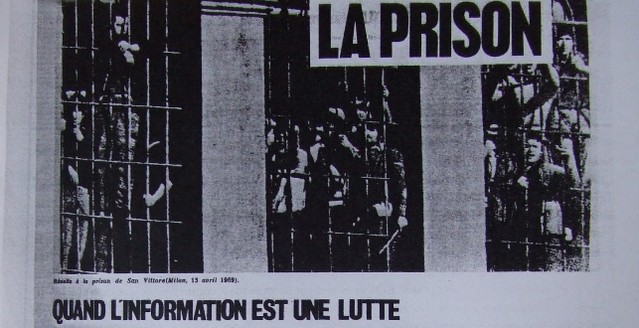 Viewpoint Magazine has a new translation of the founding manifesto of the Groupe d'Information sur les prisons, a militant research group in France dedicated to uncovering and publicizing prison conditions and to organizing with prisoners. Among other prominent intellectuals such as Gilles Deleuze and Jean Genet, Michel Foucault played a central role in the group, and also helped pen the manifesto. Check out an excerpt below, or the [full text with an illuminating introduction here][1]:
We propose to make known what the prison is: who goes there, how and why they go there, what happens there, and what the life of the prisoners is, and that, equally, of the surveillance personnel; what the buildings, the food, and hygiene are like; how the internal regulations, medical control, and the workshops function; how one gets out and what it is to be, in our society, one of those who came out.
This information is not in the official reports that we have found. We will ask those who, for some reason, have an experience of the prison or a relation to it. We ask them to contact us and tell us what they know. A questionnaire has been compiled which can be requested from us. As soon as we have sufficient responses, the results will be published.
It is not for us to suggest reform. We merely wish to know the reality. And to make it known almost immediately, almost overnight, because time is short. This is to inform opinion and to keep it informed. We will try to use all means of information: daily newspapers, weeklies, monthlies. We therefore appeal to all possible platforms.
Image via Viewpoint.
[1]: https://viewpointmag.com/2016/02/16/manifesto-of-the-groupe-dinformation-sur-les-prisons-1971/