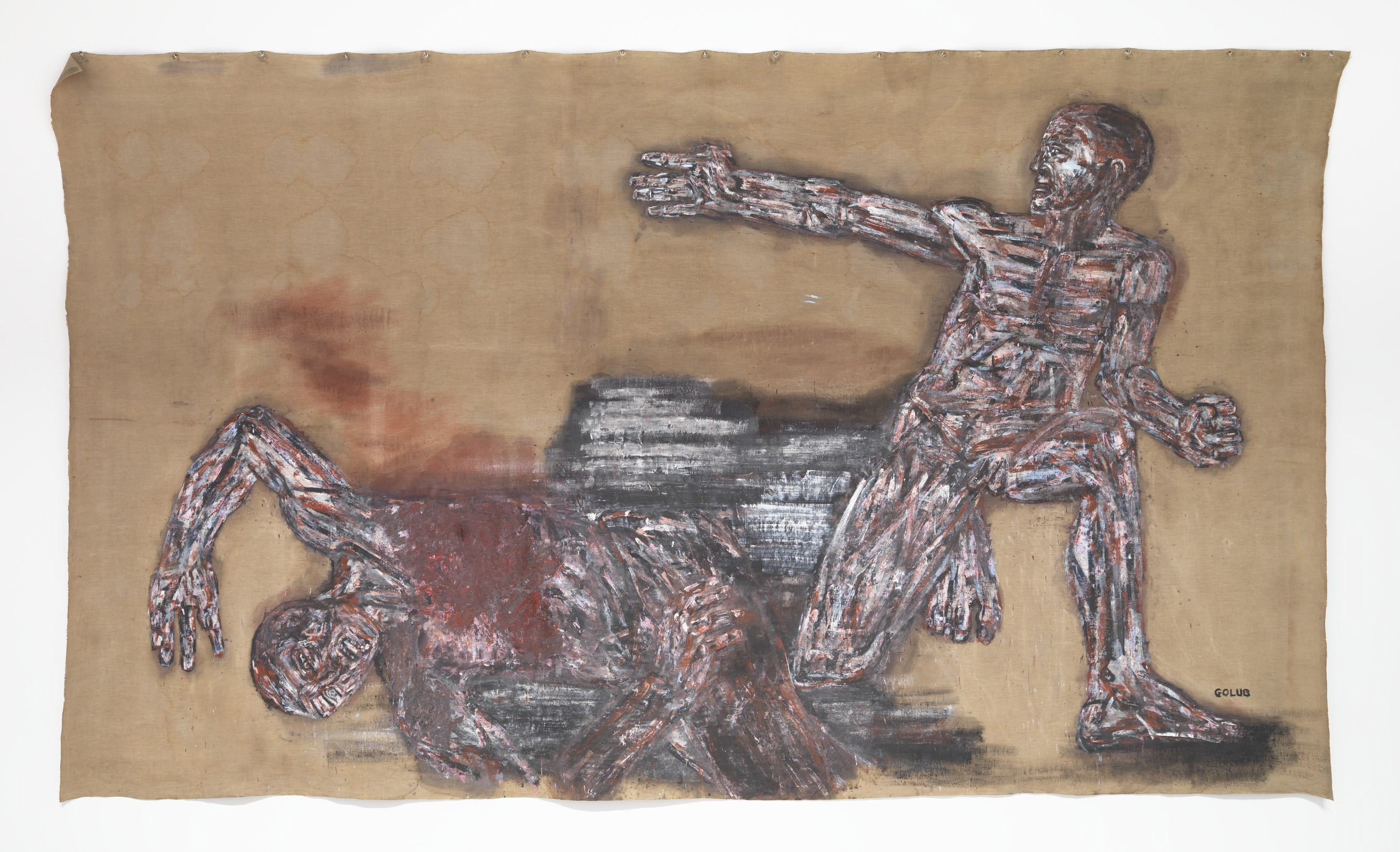 At the Paris Review website, Sarah Cowan writes about Leon Golub, who has an arresting show on display at Hauser & Wirth in New York through June 20. While Golub was a well-known and well-respected painter, his concern with "content" and his personal politics kept him on the fringes of the art world:
The art world was a tough place for Golub in life, and it still is for his work. The artist himself said in an interview, "I don't think there's a real place for these paintings at present, but that's no reason not to make them. They're not really public; I'm appealing to public awareness rather than making big public statements." Posthumously, Golub's words call out this uptown gallery, which has made a grave error, a naive, empty gesture, in titling the show "Riot." When I asked the gallerist if the title had been planned before or because of the recent riots in Baltimore after the murder of Freddie Gray, he told me it was the latter.
The title derives from one work in the show called Riot V, from a series Golub did in the late eighties. A foggy, evasive night sky floats around eight white men menacingly gesturing. As is typical of Golub's work from this period, there is a great deal of space left blank. In fact, nearly the entire top half of the painting is empty, so that the men, though much larger than life size, feel rooted as if to the floor, gathering around you, approaching.
http://www.theparisreview.org/blog/wp-content/uploads/2015/06/golub69508.jpg
Riots and, sadly, the reasons they occur, haven't changed much since Golub was painting, but the commentary surrounding them has. When a riot happens now, the Internet chatters. Think pieces encourage us to see rioting as a viable form of protest, a stance the mainstream media continues to misunderstand and misrepresent, without nuance or compassion. The articles defending riots lead to debates about strategy, to statistics on effectiveness.
These analyses, though shifting popular opinion in the right direction, are theoretical aftermath. Violence versus nonviolence has always been a formal opposition. A riot is an expression, powerful and unapologetic, concerned not with form, but with content. A riot is about something. It is about an unarmed black child shot and left in the street, a black man in a coma in a police van, a black man choked to death for selling loose cigarettes, and about the fact that these deaths at police hands happen regularly and with impunity, no matter how many times we have to witness it on instant replay.
By valuing content, Golub was ultimately staging a critique of real world powers; being a painter in his particular time, he was doomed by the constant assumption that he was critiquing the art world. He inverted the staunch morals of form that we call Greenbergian Modernism and reassigned morality to the only beings that actually have it: people. His canvases are not action painting, but paintings of action. A journalist's job is to analyze riots. What Golub did was make us look at the fight and ask why it was happening. His subjects are the pawns, not the powerful, and the only commodities we see are guns. He shows us the moment when violence has become inevitable.
To read Sarah Cowen's entire piece, visit the Paris Review website.
Top image: Leon Golub, Napalm I, 1969, acrylic on linen, 117 1/4" x 213". Via Paris Review.